The Portinari Chapel, painted between 1462 and 1468 circa, was commissioned by Pigello Portinari, a Florentine man who had moved to Milan to become the manager of the Medici bank. Pigello was especially devoted to Saint Peter Martyr, who was worshipped and known very well for his preaching in Florence too, and he chose the chapel as his burial place, once built in the centre of the floor.
After Pigello's death in 1468, the chapel served as winter choir, which would explain the presence of angels playing music on the drum of the dome.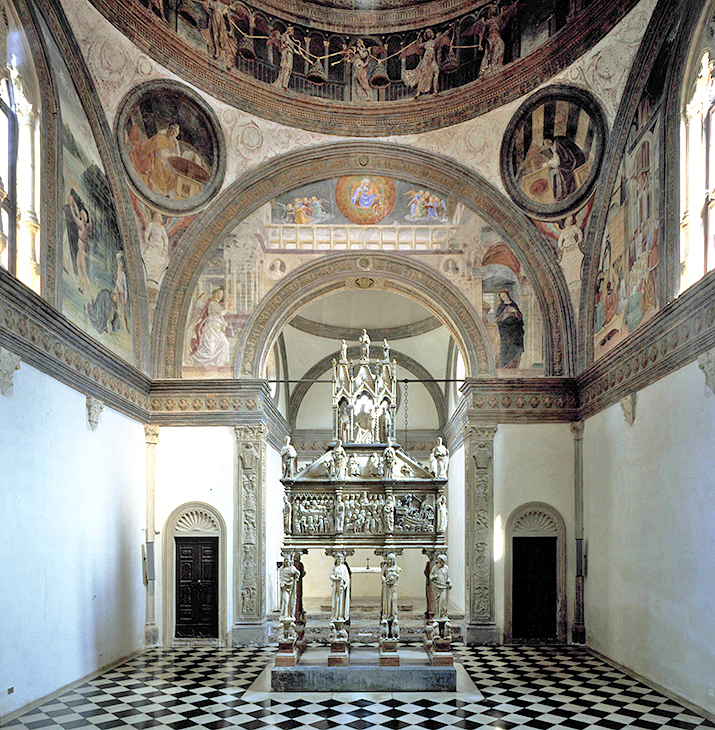 The architectural structure includes a main square-plan space, surmounted by a sixteen-section dome, and a small, square apse, following a Brunelleschi-style pattern, whereby Pigello probably wished to reassert his Florentine legacy. The chapel bears a key testimony of the first appearances of a Renaissance style of Tuscan origins, grafted into Lombard culture. The rich, sculptural decoration – mainly made of terracotta – on the trabeation, the archivolts and the window frames is especially interesting, as it establishes a relationship with the magnificent frescoes by Vincenzo Foppa, telling the life of Saint Peter Martyr.
As concerns the authorship of the design, according to Vasari, the work was originally attributed to Florentine artist Michelozzo, an idea later rejected for stylistic and chronological reasons. Other scholars thought of an intervention by Filarete. The name of Lombard architect Guiniforte Solari was also suggested, as in those years he was working at the Duomo and at the Certosa di Pavia; allegedly, he was helped here by consultants linked to the Florentine scene.
Today, the centre of the chapel is occupied by the Ark of Saint Peter Martyr, by Giovanni di Balduccio, originally located in the basilica.
L'ARCA DI SAN PIETRO MARTIRE
L'ARCA DI SAN PIETRO MARTIRE