PORTINARI CHAPEL – THE ARK OF SAINT PETER MARTYR
In the centre of the Portinari Chapel stands the ark of Saint Peter Martyr, a masterpiece by Giovanni di Balduccio from Pisa, sculpted in Carrara marble between 1336 and 1339. The ark was commissioned by the Dominican friars, in partnership with Azzone Visconti, with a view to housing the remains of Saint Peter Martyr. Initially, it was placed in the left nave of the church, and in 1736 it was moved to the choir of the Portinari Chapel. Only in 1875, it reached its current location. The ark is made up of a sarcophagus, with eight tiles telling the life of the saint, interspersed with eight figures of saints (the four Fathers of the Church in the corners, Saint Eustorgius, Saint Thomas, Saint Peter and Saint Paul), supported by eight statues of the virtues.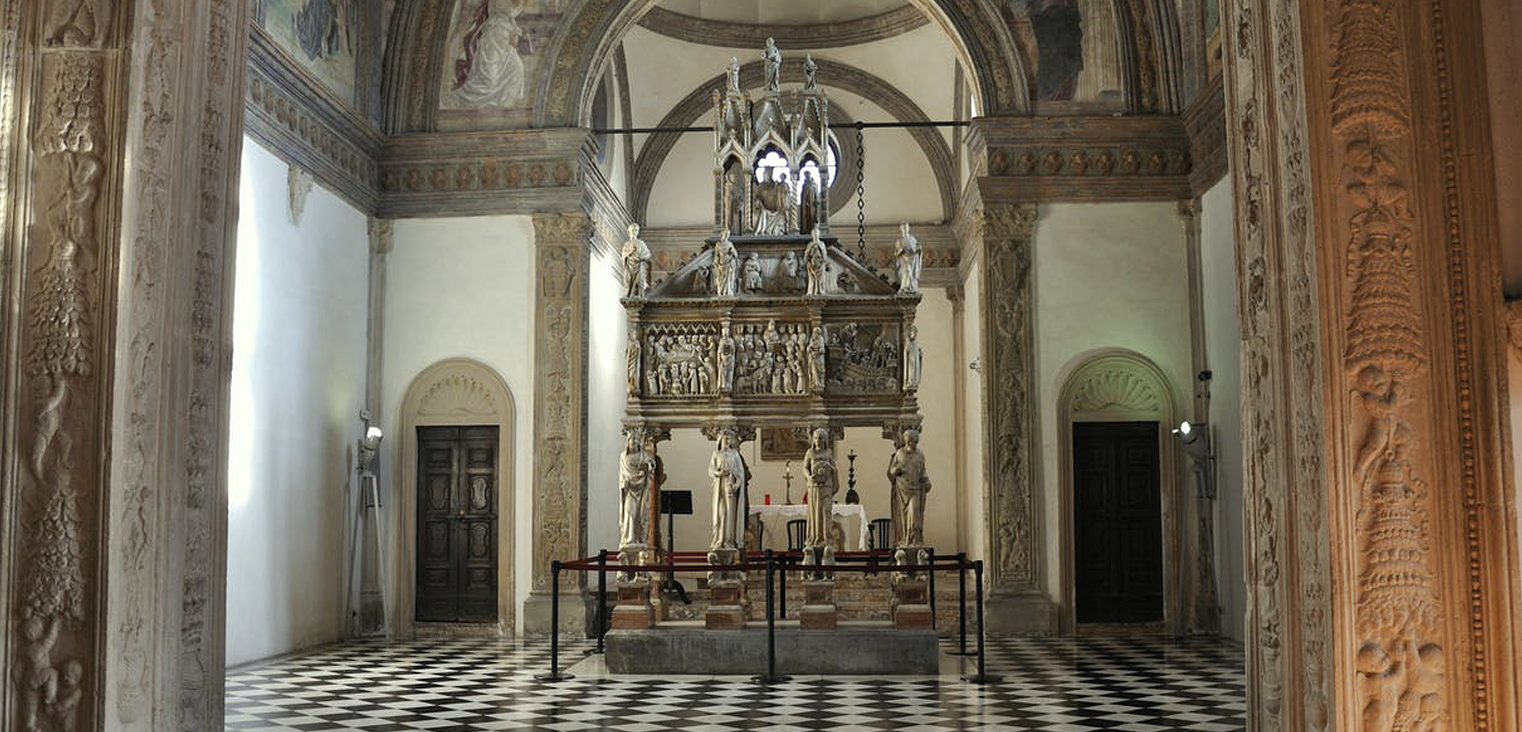 A pinnacle-shaped tabernacle enclosing the statue of the Virgin Mary, Saint Dominic and Saint Peter Martyr is placed above the cover. The lower portion of the cover, decorated with figures of saints, includes eight little statues of the Angelic Choirs.
The iconography here is therefore very complex. The eight reliefs on the four sides of the shrine present scenes from the life of Saint Peter and some miracles, following a chronological evolution. On the back side, we see the Miracle of the dumb, the Miracle of the cloud and the Healing of the ill and of the epileptic; on the left side, the Martyrdom of the Saint; on the side facing the entrance of the chapel, the Funeral of the Saint, the Canonisation and the Miracle of the ship; on the right side, the Translation of the body.
The workshop of Giovanni di Balduccio might have been involved in some reliefs of the ark, as he undoubtedly sculpted some figures isolated or in the round, such as the Justice or the Prudence (on the two ends of the side facing the entrance), or the expressive Saint Jerome, in the corner.