The Brivio Chapel (the first on the right) was made in 1484, and later reworked several times.
The left side hosts the sepulchral monument of Giacomo Stefano Brivio (died 1486) by Tommaso Cazzaniga and Benedetto Briosco, who were appointed to complete a work that another important sculptor, Francesco Cazzaniga, had begun a few years earlier.
The tomb is structured based on the most widespread type of funerary monument in Lombardy, comprising an ark borne by candelabra columns with five bas-reliefs depicting (left to right) the Annunciation, the Nativity and the Adoration of the Magi.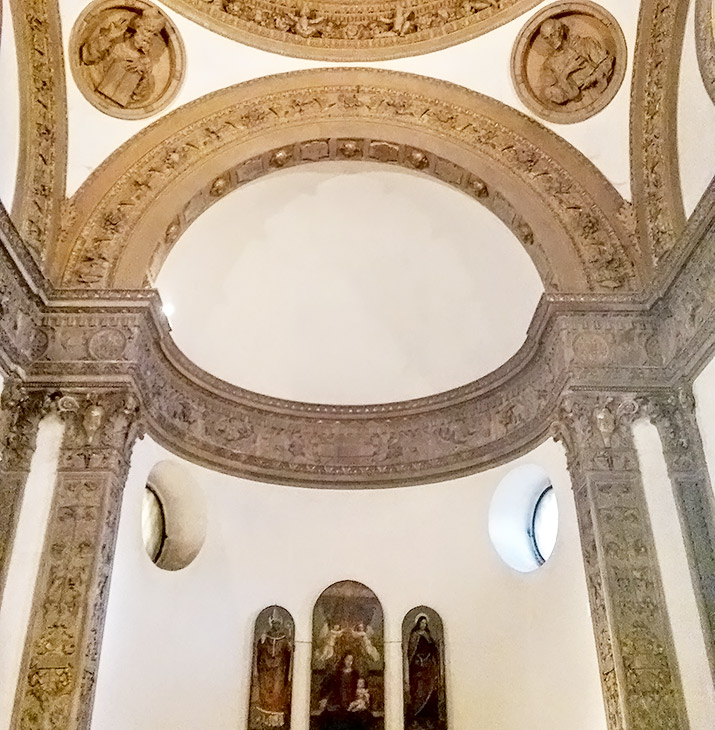 In the furthest part of the chapel there is a triptych by Ambrogio da Fossano aka Bergognone, which dates back, as the documents suggest, to the late 15th century and depicts a Virgin and Child, Saint James and Saint Henry. Originally, the panels were probably surrounded by an elaborate wooden framework.
The four small boards, depicting Saint John the Baptist, Saint Sebastian, Saint Catherine and Saint Alexander, currently arbitrarily positioned below the side boards of the first level, were originally located where the four vertical columns of the frame dividing the three panels used to be. While there are no doubts as to the artist that painted the main level, the rather poor quality of the smaller boards suggests an intervention by Bergognone's workshop